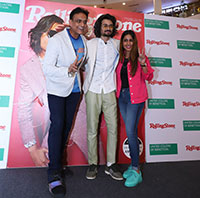 United Colors of Benetton (UCB) recently unveiled the July edition of Rolling Stone India at Select Citywalk in Delhi. The cover features Indian comedian, singer, songwriter and YouTube sensation Bhuvan Bam on the cover in a complete Benetton look from the brand's eclectic Spring Summer 2019 collection. The magazine was unveiled by Ram along with Sundeep Chugh, CEO and MD, Benetton India.
The Spring Summer'19 collection of the brand encapsulates the essence of Italian fashion with contemporary prints, dynamic denim themes and fun soft floral prints. The collection offers a variety of classic designs in floral, stripes, quirky tees and bold prints in an array of colors and high quality fabric. This season's collection is all about mixing up colors and prints, with pastels making a rich recurrent story and warm shades that are reminiscent of the autumn gone by. The Spring Summer'19 collection encapsulates the essence of Italian fashion with contemporary prints, dynamic denim themes and fun soft floral prints.
The Color Palate: This summer, pantone being the seasonal inspiration of 2019, the brand offers a wide range in
pantone hues. The collections key color palate focuses on pastel shades and a mix of colorful prints in warm color harmonies, material and product application across men's, women wear.
Benetton Group is one of the best-known fashion companies in the world, present in the most important markets with a network of about 5,000 stores. A responsible group that plans for the future and lives in the present – with a watchful eye to the environment, to human dignity, and to a society in transformation – the Group has a consolidated identity comprised of colour, authentic fashion, quality at democratic prices and passion for its work. These values are reflected in the strong, dynamic personalities of the United Colors of Benetton and Sisley brands.
Sundeep Chugh, CEO & MD, Benetton India said "Benetton has a long history with art. We love to infuse art of any form into fashion and create a collection that is young and positive. Benetton and Rolling Stone have been partners since a long time and we are happy to have a popular youth icon like Bhuvan Bam sport our SS19 collection for India's leading music magazine." Styled in Benetton's vibrant Spring Summer collection, Bam said. "The magazine is known for shaping music and pop culture vibes across the globe and in India and I'm delighted to be featured in the magazine that I have read during my teen years. Benetton feels like a perfect brand to be spotted in for all the work it has done to empower art, culture and music. I have always admired Benetton for their color plays and unique fashion statements. Our cover shoot styled in the new Spring-Summer collection was absolutely fun and I loved tropical summer looks that I was styled in."
United Colors of Benetton's commitment to social issues has always been a central feature of the brand that, through its communications campaigns and collaborations with leading non-profit organisations, makes the public reflect on social issues of universal relevance.