The women's formalwear market in India is estimated Rs 250 to 300 plus crores points out Ashutosh Murarka, Design Head, Arrow "And we are comfortably placed in the top two positions in women's formal wear segment." He points out the size of the market is relatively low primarily due to two reasons: skewed ratio of working women to working men which is rapidly changing worldwide; and the strong competition from ethnic wear categories including saris and salwar-kameez.
Power dressing among working women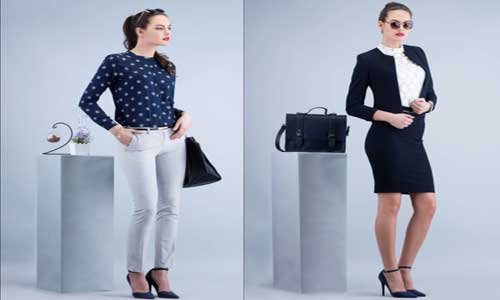 The ratio of women in the workforce has significantly increased in the IT industry and corporate world, and a large number of them are adopting business dressing concepts. This, feels Murarka, will boost demand for women's formals across India. "In women's formal segment, brand loyalty and brand recognition are the key business strategies adopted by leading players."
However, Indian consumers are not brand loyal. They look for the best product at least possible price. They also have time to pick and choose. And with the arrival of many international brands, decade-old domestic brands now face competition and are going through considerable change in their approach and merchandise. "These brands online presence is an outcome of globalization," he says.
Murarka opines, "Demand for innovation and sustainability is growing everyday. By far, small brands are becoming more popular in a price driven market whereas the metros are still captured by premium brands." And he sees a great future for business, "With retail stores merging their physical and online stores in different ways sales are improving. Faster mobile penetration is boosting the number of Indian internet users. M-commerce is phenomenally impacting business. With so many players both branded and unbranded in the market the task for us is to pull customers to stores the most attractive way. More importantly, we must keep innovating with products, so that customers realise they are missing something in their wardrobe and only we can fill that space," he observes.
Tier II and III cities the real growth story
He says "Metros have always given us great business as they are the major hub for all corporate setups. But growth in Tier II and III cities has increased phenomenally in the last few. The opening of educational Institutions in Tier II cities has led to a boost in buying potential there."
Sustainable fashion the new mantra
This season, the brand is introducing colour blocked knits, bomber shirts, asymmetric hems, and cropped blazers. High neck dresses will be a big trend this season from the brand. "Innovation and styling are an important part of fashion, with today's customer becoming more aware of their surroundings, they also want to contribute towards the environment and that's why our team is continuously working towards sustainable fashion, with use of recyclable fabrics, multipurpose garments and many more ideas," he observes.
The brand has developed a wide range of styles using bi-stretch fabrics. As always Arrow has a stronger trouser line following the introduction of their new superflex treggings, shape shift trousers. Multipurpose detachable lined jackets, reversible garments and fleece lined jackets will also be a big hit this season. The prominent colour palette will be: midnight wine, carmine pink, celadon green and garnet rose pink.
Bi-stretch fabrics fit better, more breathable
Arrow has emphasised on green fashion by using recycled polyester bamboo Lycra fabrics and designing reversible multipurpose jackets. They have used a lot of bi-stretch fabrics in their latest A/W collection which fits better and is more breathable. The dominant fabrics are: polyester and blends of viscose this season; however, suede will grow stronger this winter. By the end of this year, they are hoping to grow by 15 to 20 per cent.