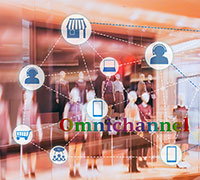 Though six out of ten consumers use at least one digital channel for their shopping of apparels and garments, retailers still value the importance of physical stores. This is leading to the adoption of a combination of physical stores with digital channels to provide customers with wider choice. A recent Apparel Omnichannel Survey of more than 3,000 US shoppers notes, an average omnichannel shopper shops 70 per cent more often than an offline-only shopper and spends over 34 per cent more than an offline-only shopper. The survey reveals that over 60 per cent shoppers now use digital channels either for research or transaction purposes. This share is projected to grow three times more than that of physical store sales.
Personalisation drives sales across channels
The survey says, personalisation is the key driver for sales across both online and offline channels. It offers
brands an opportunity to differentiate themselves from their competitors. Customers adopting multi shopping channels experiment more with new technologies and engagement models.
To keep pace with growing demand for innovation, brands are improving their degree and pace of experimentation. Reformation, a direct-to-consumer brand known for sustainable sourcing and manufacturing, delivers new products quickly in response to customer insights and feedback while Revolve Clothing, a digital-first company, creates a full-circle loop based on its proximity to the consumer.
There retailers also investing in new models to engage with the customer. Stitch Fix offers a virtual stylist and subscription service, while Rent the Runway is building an ever-more comprehensive rental service, expanding to new product categories. The retail framework of these retailers focuses on five primary factors—assortment, service, experience, price, and convenience:
Experience: Rather than relying exclusively on owned transaction and third-party-syndicated data to get a view on a customer, these retailers are now transforming their brick-and-mortar stores into data-collection opportunities which offers a complete view of their customers. They are also exploring the practical elements of experience, such as product reviews to increase confidence in the purchase, being able to reserve items to try on in stores, and the purchase channel meeting expectations consistently, Elements of these experiences also include offering interactive and engaging ways to navigate products and discovering new offerings.
Service: Among all factors available to brands and retailers to compete, service has the most room to differentiate and the ability to delight omnichannel shoppers. Research indicates that out of ten, seven shoppers purchase a clothing item from a company that provides excellent service. Retailers are therefore, leveraging virtual stylists and chat bots to provide gain information about their specific customers.
Assortment: Rather than creating an inventory on the basis of historical planograms, leading companies are investing in advanced analytics and web scraping to forecast trends. They are doing fast tests and trials with customers to see what sells before committing to space on a shelf or floor. Tailoring the assortment to a retailer or to a channel allows retailers to break shoppers' ability to price reference online and enables price variation by channel.
Price: Regardless of which channel they prefer to shop, customers tend to opt for products that are rightly priced and offer better experience. They are even willing to pay more for a better experience, which can include the ability to charge different prices offline and online or across different channels if the experience is sufficiently differentiated.
Convenience: Another factor that drives customers to engage in more purchases is the convenience of seamlessly switching between online and offline channels, flexible delivery options, and location of store. Consistently, companies that engaged in omnichannel retail are designing differentiated experiences across these five factors to strengthen their relationship with their customers.
Earlier, shoppers patronised the dressmakers and tailors who understood their tastes and preferences. They expect the same kind of personal touch today. Only those retailers who are able to translate their customers' needs and expectations into carefully crafted channel strategies will emerge as winners.</p