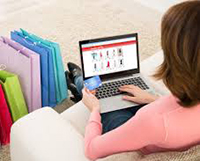 Over the last few years, India's retail industry has revolutionised at a breakneck pace with digital disruptions redefining the sector with its cutting edge technologies. Gone are the days when the local kirana stores or the roadside clothes shops were considered the ultimate shopping destination. The rise of online shopping portals over the past decade has altered the retail sector to such an extent that major ecommerce giants are fighting tooth and nail with brick and mortar stores for their share of profit.
Competition between both online and offline stores is warming up with growth in both running parallel to each other. While offline retail market is expected to cross the $1 trillion mark by 2020, the Indian e-commerce market is expected to generate over $100 billion by then. This tremendous growth in e-commerce has made it necessary for traditional offline stores to adopt new shopping practices.
Internet, smartphones, growing middle class spurs growth
Increased internet penetrationalongwith an ever-proliferating usage of smartphones andsmooth digital payment
solutions have changed the concept of shopping in India with digital channels enabling consumers to research, survey products, discern, analyse reviews and then buy goods online.
Other factors that are contributing to the increase of digital shoppers in India include growing young population and burgeoning middle class who prefer the comfort of easy shopping these channels provide.
Though online shopping offers many benefits, there are some downsides as well. One of its major limitations includes the costs borne by branding and marketing departments which are ultimately passed on to customers.
Retailers harmonise online and offline stores
To deal with the situation, retailers are adopting a 'Harmonized Retail' approach that includes amalgamating their online and physical stores. Many retailers are adopting this approach. Significant example includes the acquisition of Whole Foods by Amazon two years ago.
Over these last two years, Whole Foods has metamorphosisedfrom corporate to the individual store level. Besides, online branding on Amazon Prime, the company has also expanded its online operations. As customers today seekunique shopping experience, retailers need to elevate the entire retail business to fulfill their dynamic needs and preferences rather than segregating physical stores from the online platforms.