The 12th edition of the Indian Fashion Jewellery Accessories Show, presented the Ajay Shankar Memorial Awards for the best design and display stands. The show is currently being held at India Expo Centre & Mart in Greater Noida.
Manoj Kumar Tiwari, Member of Parliament & President BJP Delhi, presented the awards to the selected participants in a colorful ceremony held followed by cultural performances.
The awards were given in two categories i.e. Fashion Jewellery and Fashion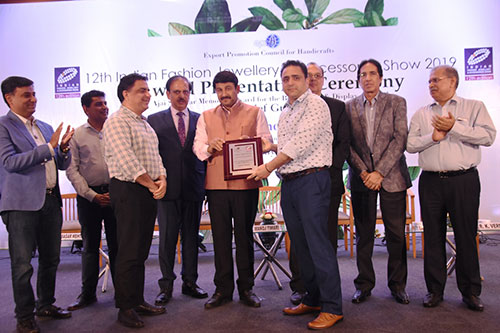 Accessories. One gold, two silver and two bronze awards were given in both the categories.
The Ajay Shankar Memorial Awards were instituted in the memory of late Ajay Shankar, former Development Commissioner (Handicrafts) who was one of the major motivators for establishing this fair.
Tiwari expressed his delight at the range of jewelry and accessories displayed at the show. According to him, the handicrafts sector is not only increasing exports from the country but also creating employment for a large number of artisans and craftsperson.
He further said that the arts and crafts of India are known from the ancient time for intricate workmanship, exquisite nature and exclusive designs. Each state of India have distinct nature of arts and crafts produced at the village level for many centuries. More than 70 lakhs artisans engaged in producing various types of items are the backbone of the handicrafts sector.