Marian Park, Fashion Editor, WGSN sets out key trends for menswear for the season. As per Park trends are full of contradictions. While tailoring is slouchy, streetwear is refined. The continuous adoption of new trends is creating a smart and casual menswear that is not only versatile but also of utmost value to consumers.
The key menswear prints, colors and products for S/S 2020 include: Focus on emotional colors: Colors for S/S 2020 collection of menswear are shifting from the millennial pink and fluorescent green towards a botanical garden green for garments with a raw or unfinished appearance or organic textures. Along with this, a richer "heated pink" shade is gaining prominence as it blends well for cut-and-sew tops as an "easygoing addition for laid back denim looks."
The overall color palette is light and bright. As bright yellow shade brightens an usually pale summer utility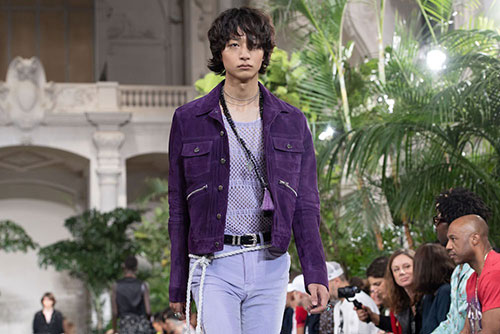 jacket, lilac is emerging as a complementary color to denim blues, yellow and tobacco.
Tie-dye prints emerge most preferred
Tie-dye print is emerging as the most preferred print for all events ranging from catwalks to street style. The print will continue to evolve as it offers brands an opportunity to explore sustainable dye ingredients that add a strong selling point. For those retailers who have exploited the tie-dye prints to their full extends painterly prints prove to be a viable alternative. However, for S/S 2020 Park says the importance of the print is amplified by the growing prep trend, particularly colorful table cloth checks.
Styles in vogue
Cargo pants, which increased by 25 per cent during the S/S 2019, is picking up traction for next spring, mainly as it aligns with several overarching themes influencing men's fashion. These pants can be fashioned with premium structured materials or with bold pockets and volume.
Demand for light and practical outerwear is on the upswing. The boxy jacket is being considered to be a viable alternative to streetwear's bomber jacket. It's simple and practical shape is easy to style for casual looks. The anorak also continues to have commercial success, as consumers understand it as a practical and stylish investment. The piece can look formal with traditional checks, or festival-ready in semi-sheer fabrication. Here, Park noted, brands have an opportunity to tell a sustainable story through the use of recycled polyester.
The resort shirt is gaining popularity due to its relaxed silhouette. The shirt is well-patterned with contrast colors. The volume T-Shirt with boxy sleeves also lives on, thanks in part to its ability to work alongside other "generously cut" items like relaxed jeans. Polos and rugby shirts are also important, Park said, serving as a baseline for the emerging prep trend.
As tailored clothes are making a comeback against readymade clothes, young consumers are warming up to the idea of summer occasion wear, especially styles designed for a casual end use. This is resulting in a relaxed approach to structure with slouchier leg and blazer options.</p