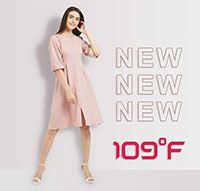 A new age fashion brand for women, 109°F offers finely crafted designs for the uber cool Indian woman who is young at heart, aware of international fashion trends and confident of making a statement in any situation. "Cosmopolitan, bold and carefree, she loves to travel with style and comfort. She is not afraid to experiment with her style," states Rahul Mehta, Managing Director, 109°F. The brand's current collection with its basic and classic cuts reflects this daring attitude of the modern age woman.
Market shifts to natural fabrics, smaller cities
Currently estimated at $6 billion, the womenswear market in India continues to be
dependent of polyester and other man-made fabrics even though there has been a noticeable shift towards natural fabrics. "These fabrics are preferred for their sheen and brightness and are preferred mostly in deep and muted colors," adds Mehta. From metros and big cities, the market is moving towards smaller cities. "However, brands still need to keep the style sensitivities of this market in mind," warns Mehta.
International brands hold an edge
The advent of international brands is intensifying competition in this market, feels Mehta. "The opening of Tier II markets presents a big opportunity. However, international brands still hold an edge in this segment. The astuteness of the Indian consumers in identifying an overpriced product will ensure the return of domestic brands in the market," adds Mehta. He feels a woman looks more at the style, fit, and trend of a garment rather than its brand name. To cater to these needs, brand 109°F is now re-strategising its channels of distribution. As Mehta informs "we are increasing our focus on the online channels."